Image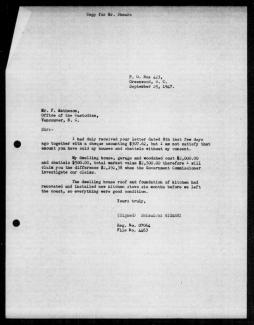 Image Description
Scanned black-and-white microfilm of a typewritten copy of a letter addressed to government representative F Matheson from Shizuichi Higashi regarding dispossession of their property.
Sender's Address
P.O. Box 423,
Greenwood, British Columbia
Recipient Address
​Office of the Custodian,
Vancouver, British Columbia
Body
Copy for Mr. Shears
P. O. [post office] Box 423,
Greenwood, B.C.
September 25, 1947.
Mr. F. Matheson,
Office of the Custodian,
Vancouver, B.C.
Sir:-
I had duly received your letter dated 8th inst [instant] few days ago together with a cheque amounting $307.62, but I am not satisfy that amount you have sold my houses and chattels without my consent.
My dwelling house, garage and woodshed cost $2,000.00 and chattels $500.00, total market value $2,500.00 therefore I will claim you the difference $2,192,38 when the Government Commissioner investigate our claims.
The dwelling house roof and foundation of kitchen had renovated and installed new kitchen stove six months before we left the coast, so everything were good condition.
Yours truly,
(Signed) Shizuichi HIGASHI
Reg. No. 07064
File No. 4463