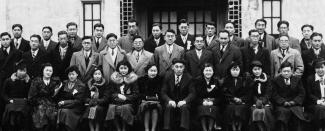 About
Writing Wrongs: Japanese Canadian Protest Letters of the 1940s is a Nikkei National Museum online exhibit. It was inspired by research from the Landscapes of Injustice project on the Japanese Canadian dispossession and letters of protest.
This online project was developed with the support of the Digital Museums Canada investment program. Digital Museums Canada is managed by the Canadian Museum of History, with the financial support of the Government of Canada.
Creative content, including montages and films, was developed by Tabata Productions.
Website design and creation by NGX Interactive.
Carolyn Nakagawa
Project Manager
Linda Kawamoto Reid
Research Archivist
André Lussier
France Jodoin
Nicholas Massé
Charlotte Maus
Exhibit French translation
Jean-Pierre Lussier
Archival letter French translation
Maryline Perrett
Anne Port
Lesson plan French translation
Masumi Rodriguez
Reiko Kelly Pleau
Nathalie Picard
Emiko Newman
Kimberly Cielos
Tai Anderson
Additional Project Assistance
Susanne Tabata
Lead Creative Director
Senior Creative Content Producer
John Endo Greenaway
Art Director
Graphic Designer
Masako Fukawa
Sally Ito
Terry Watada
Lisa Smedman
Bernie "Skundaal" Williams
Susanne Tabata
John Endo Greenaway
Story Writers and Consultants
Chelsea Schmidtke
Data Entry
Content Management Writer
Editor
Jon West
Landscape Cinematography
Photography
Kazuko Ikegawa
Calligraphy
Dirk Erkau
Studio Photography
Riccardo Almeida
Matt Koeleman
Joonsuk Lee
Cinematography
Zen Belle
Laura Fukumoto
Maria Milano
Kanon Suzuki-Hewitt
Brett Willis
Actors
Henrique Andrade
Location Sound
Fernando Diaz
Vlad Kapeliushnyl
Edgar Marquez
Armando Ruiz
Valerie Kvochkova
Models
LaSalle College Vancouver
Britannia Shipyards National Historic Site
Nitobe Memorial Garden
Locations
Chris Thompson
Set Construction
Gulf of Georgia Cannery
Nikkei National Museum
Objects
Gustavo Reinecken
Post Production Supervisor
Henrique Andrade
Michael Foster
Adam Fulton
Yuta Ishibashi
Jake Paler
Gustavo Reinecken
Post Production (Picture, Sound)
Line 21 Media Services
Transcription & Closed Captioning Services
Beyond Description Sound Services
Descriptive Video Services
Nicole De Swardt
Project Manager
Hanna Cho
Senior Producer
Codi Lechasseur
Web Developer
Christina Gheorghe
Quality Assurance
Justin Williams
Senior UI Designer
Jordan Stanger-Ross
Project Director
Original Scholarship Co-Author
Kaitlin Findlay
Research Coordinator
Nick Blomley
Original Scholarship Co-Author
Mike Perry-Whittingham
Lesson Plan Creator
Eric Adams
Yoriko Gillard
Eiji Okawa
Trevor Wideman
Landscapes of Injustice Research Collective
Additional Consultants
Nikkei National Museum (NNM) 2012-10-1-1-9
NNM 2012-10-1-1-12
NNM 2013.57.2.3.11
Mas Fukawa and family
NNM 2010-23-2-4-201
NNM 2001-28-2-1-4
NNM 1996-182-1-30
NNM 1994-60-22
Vancouver Public Library 2108
NNM 2010-80-2-80
NNM 1994-69-4-27
Japanese Canadian Cultural Centre 2001-3-59
"Reiko, Alberta, 1945". Lillian Michiko Blakey, Acrylic on canvas, 2009., NNM 2013-57-1-6
NNM Eiji Yatabe collection
NNM 2001-28-2-1-9
NNM 1994-69-4-29
NNM 2001-4-157
NNM 2011-77-2-1-15
Tamio Wakayama estate
NNM 1995-143-1-41
Kayla Isomura photograph
City of Vancouver Archives 780-372
NNM 2000-9-2-3
NNM 2012-29-2-2-52
NNM 2010.49.17
2010.23.2.4.139
Omoto family
Archival images and additional photography
This exhibit and its contents, except when otherwise indicated, are all property of the Nikkei National Museum & Cultural Centre (NNMCC). The protest letters are property of Library and Archives Canada. Archival image ownership is as identified for each individual image. Environmental landscape video images are licensed to the NNMCC in perpetuity for use in the exhibit. Tabata Productions retains moral rights to all video assets and non-archival graphic assets in the exhibit which are property of the NNMCC. Except for fair dealing, exhibit content in part or in whole may not be reproduced without prior written explicit permission from the NNMCC or when applicable, the owner of the content in question, with appropriate acknowledgment or citation of the copyright owner and the online exhibit.