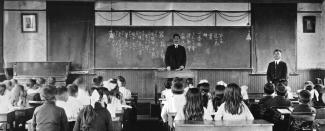 Teachers' Lesson Plan
Download sample classroom activities, including exhibit information and worksheets, for each section of the Writing Wrongs exhibit below.
Contents
A lesson matrix has been provided to guide you through the activities and the associated exhibit chapters. The matrix is organized by chapter title, but also includes a focus question and brief overview of the lessons activity(s). The focus question connects the lesson activities to the content of the exhibit and offers a tool to hold a summary discussion with the students after the activity is completed. Alternatively, teachers can use the focus question to guide an independent student investigation into each chapter.
Lesson Matrix
Overview of each lesson activity
Focus Question
Teacher Instructions
Chapter 1 – Kibou
Chapter 2 – Ikigai
Chapter 3 – Gaman
Chapter 4 – Hibiki
Handouts
Handout 1.1 – Bingo Game Sheet
Handout 2.1 – Chart and Reflect
Handout 3.1 – Voices of Protest - Letter Chart
Handout 3.2 – Voices of Protest - Likert Survey
Handout 3.3 – Voices of Protest – Response from Custodian
Handout 4.1 – Elevator Pitch Criteria
Evaluation Rubrics
Evaluation Rubric 1.1 – Bingo Game Suggested Responses
Evaluation Rubric 2.1 – Chart and Reflect Suggested Responses
Evaluation Rubric 4.1 – Elevator Pitch
Additional Resources and Links
HastingsPark1942.ca
(created with support from Nikkei National Museum and Greater Vancouver Japanese Canadian Citizens' Association)
Nikkei-Tapestry.ca
(Virtual Museum of Canada online exhibit)
Tashme.ca
(Nikkei National Museum co-created with volunteers)
JapaneseCanadianHistory.net
(Supported by Greater Vancouver Japanese Canadian Citizens' Association, made with contributions from teachers)
JapaneseCanadianHistory.ca/Politics_of_Racism.pdf
(PDF edition of The Politics of Racism: The Uprooting of Japanese Canadians during the Second World War by Ann Sunahara)
TheCanadianEncyclopedia.ca/en/article/japanese-canadians
(by Ann Sunahara)
LandscapesOfInjustice.com
(Site dedicated to the forced sale of Japanese Canadian owned property with links to teacher resources)
Teachers' Lesson Plan (PDF) — 1.2MB