Image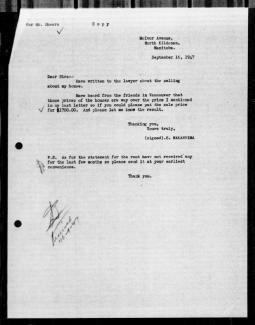 Image Description
Scanned black-and-white microfilm of a typewritten copy of an unaddressed letter from E Nakashima regarding dispossession of their property. Includes handwritten marks, signatures and annotations throughout.
Sender's Address
McIvor Avenue,
North Kildonan, Manitoba.
Body
For Mr. Shears
C o p y
McIvor Avenue,
North Kildonan,
Manitoba.
September 16, 1947
Dear Sirs:-
Have written to the lawyer about the selling about my house.
Have heard from the friends in Vancouver that those prices of the houses are way over the price I mentioned in my last letter so if you could please put the sale price for $1700.00. And please let me know the result.
Thanking you,
Yours truly,
(signed) .E. NAKASHIMA
P.S. As for the statement for the rent have not received any for the last few months so please send it at your earliest convenience.
Thank you.
D Received 26-9-47 [signed, handwritten]