Image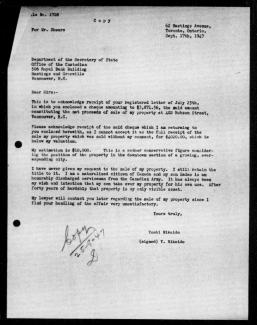 Image Description
Scanned black-and-white microfilm of a typewritten copy of a letter addressed to the government from Yoshi Nikaido regarding dispossession of their property. Includes handwritten annotation below body of letter.
Sender's Address
62 Hastings Avenue,
Toronto, Ontario
Recipient Address
​Department of the Secretary of State.
Office of the Custodian,
506 Royal Bank Building,
Hastings and Granville,
Vancouver, British Columbia
Body
File No. 1728
For Mr. Shears
62 Hastings Avenue,
Toronto, Ontario,
Sept. 17th, 1947
Department of the Secretary of State
Office of the Custodian
506 Royal Bank Building
Hastings and Granville
Vancouver, B.C.
Dear Sirs:-
This is to acknowledge receipt of your registered letter of July 25th, in which you enclosed a cheque amounting to $3,871.56, the said amount constituting the net proceeds of sale of my property at 402 Robson Street Vancouver B.C.
Please acknowledge receipt of the said cheque which I am returning to you enclsoed herewith, as I cannot accept it as the full receipt of the sale my property which was sold without my consent, for $4020.00, which is below my valuation.
My estimation is 10,000. This is rather conservative figure considering the position of the property in the downtown section of a growing, ever-expanding city.
I have never given my consent to the sale of my property. I still retain the title to it. I am a naturalized citizen of Canada and my son Sadao is an honorable discharged serviceman from the Canadian Army. It has always been my wish and intention that my son take over my property for his own use. After forty years of hardship that property is my only visible asset.
My lawyer will contact you later regarding the sale of my property since I find your handling of the affair very unsatisfactory.
Yours truly,
Yoshi Nikaido
(signed) Y. Nikaido
Copy
25-9-47
D[handwritten]